Configure Print&Share to send emails via Office 365 (SMTP)
General
If your organisation is using Office 365, it might be possible to configure Print&Share to send emails via the Office 365 SMTP server.
Configure Print&Share
Open Print&Share and go to the General Configuration.
Navigate to the Email tab.
Let's say that info@foobar.com is your organisation email account.
Fill in the From email:, Reply to: with your email info@foobar.com.
Click on the Transport settings button.
For Transportation method select SMTP.
Fill in the settings under Use SMTP server:
SMTP server: smtp.office365.com
SMTP login name: info@foobar.com
SMTP password: <your email account password>
SMTP port: 587
SSL? Enabled
Click OK to close all dialogs.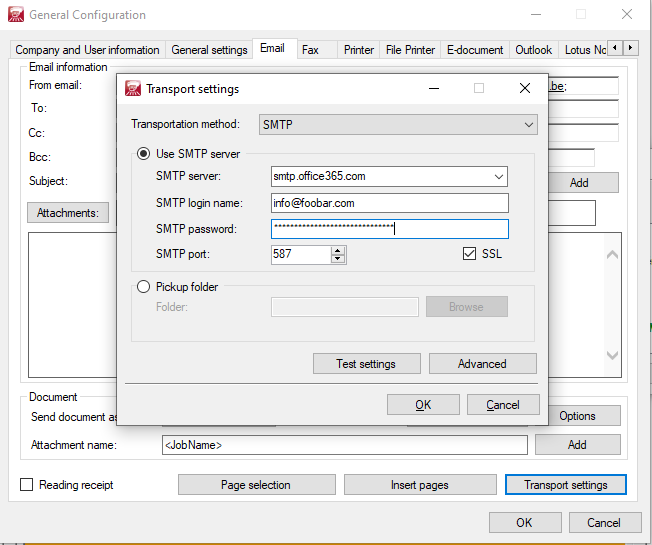 Remarks
The Email tab in General Configuration contains the default settings for email. When you add an email channel to a profile, these default settings will be used. In the profile/channel you can override the default settings with channel-specific email settings.

Your Office 365 should be configured correctly. When you try to send email on a different account than yours, make sure you have configured all mailbox permissions correctly in Exchange server (e.g. Send on Behalf, Send As permissions).
See also