Preview jobs: enable document preview to configure a recognition
By default when you configure a recognition in Print&Share CQ, you don't see any document or page layout previews. In many cases not having a preview makes it hard to configure a recognition.
To compensate this, we've made a preview mode available in the print driver.
The idea is when you enable "preview mode" in the print driver and print a document to that specific printer driver. The document will not be processed as a regular print job but as a preview print job.
These preview print jobs will then be available to use in a recognition in the preview section.
Installing the Print&Share CQ Printer extension
Preview mode is available when you install the Print&Share CQ Printer Extension.
One way to get the Printer Extension is by downloading it via the P&S CQ Portal.
via P&S CQ Portal:
From the client where you will print: open a webbrowser and navigate to the Print&Share CQ Portal.
Go to Manage > Maintenance > Printer extensions
Download and install the printer driver extension on the client pc.
Enabling preview mode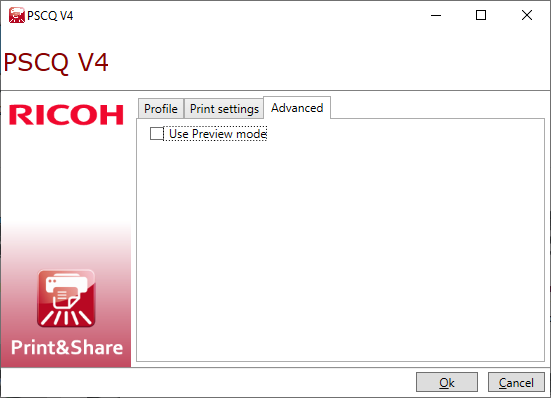 Log in to the Windows client or server where you are going to print the document.
Go to Windows Control Panel > Devices and Printers
Right-click on the Print&Share CQ printer and select Printer properties.
On the tab page General, click the Preferences.. button.
Now you will see a Print&Share CQ dialog.
If you don't see this dialog you have to install the Printer extension. This can be found at CQ > Manage > Printer extensions.
Navigate to the Advanced tab page and enable the Use preview mode option.
Now you can print a document to this print queue and it will be available for use in a recogntion.
It is always good to first close the application and restart the application that you use for printing the preview job (e.g. Word, Notepad, ..) it before printing. Because applications can cache the print driver settings, and thus not seeing the "preview mode" status change.
Note: Don't forget to turn off this option again when you are ready with your profile configurations!
Preview jobs
All print jobs printed in Preview mode are available for an administrator in via Monitor > All Data > All Jobs > All preview jobs.
In this section you can delete preview jobs.
(By time of writing only one preview job at a time is available. Printing a new preview job will overwrite the previous preview job.)
Remarks
Via a group policy it is possible to block printer extensions for your clients: Computer Configuration\Administrative Templates\Printers\Do not allow v4 printer drivers to show printer extension applications
See also