How to start print&share on specific conditions
Introduction
This feature is often used when the output of Print&Share is selected on [Documents are combined into one transmission]. On the basis of a unique word, Print&Share can stop combining several print jobs and start the processing.
Print&Share Corporate users have some extra options.
Free recognition
If you click on the button [Options] near the feature Auto Send & Close a new dialog appears.

The [Free Recognition] is the feature that is available to all users. You can simply use the feature by entering a word in the field [Recognition ID] that is found in the document. If you have two or more words, you can separate the words with a ";" character.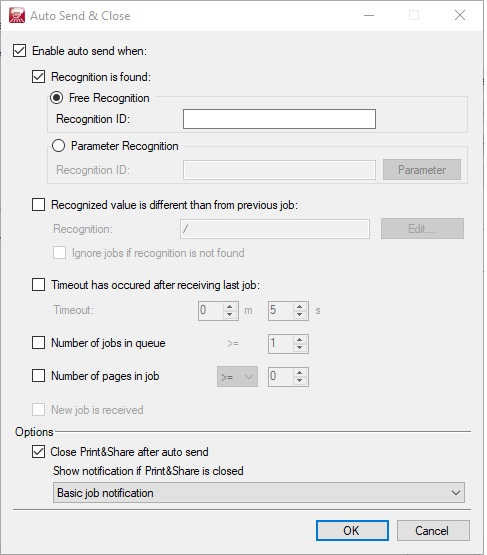 Extra conditions
Four more methods are available which can auto send the loaded documents. Parameter Recognition Using this option you have several methods to search for unique words. Please refer to the chapter Recognition methods.
The recognised value is different to a previous job When the recognition found in the new job is different to that in the last job in the queue, then all loaded jobs (excluding the new one) are sent to the output. You can also ignore jobs if the recognition is not found.
Timeout has occurred after receiving the last job If you don't have a trigger condition to auto send the print job, you still can use a time condition. This feature will start Print&Share when a timeout has occurred after receiving the last print job.
Number of jobs in the queue Sent when a number of loaded jobs is greater than or equal to a specific number. This is only validated when receiving a new job.
Remember If no options are specified, then Print&Share automatically sends all received jobs one by one immediately to the output.
Close The last option [Close Print&Share after auto send] will close the application after sending the print job to the output.